UK infrastructure industry digital benchmarking results:

The graphic shows a snapshot of the industry's current maturity, with scores increasing from the centre outwards, and darker shading indicating a higher percentage of owners at that level of maturity.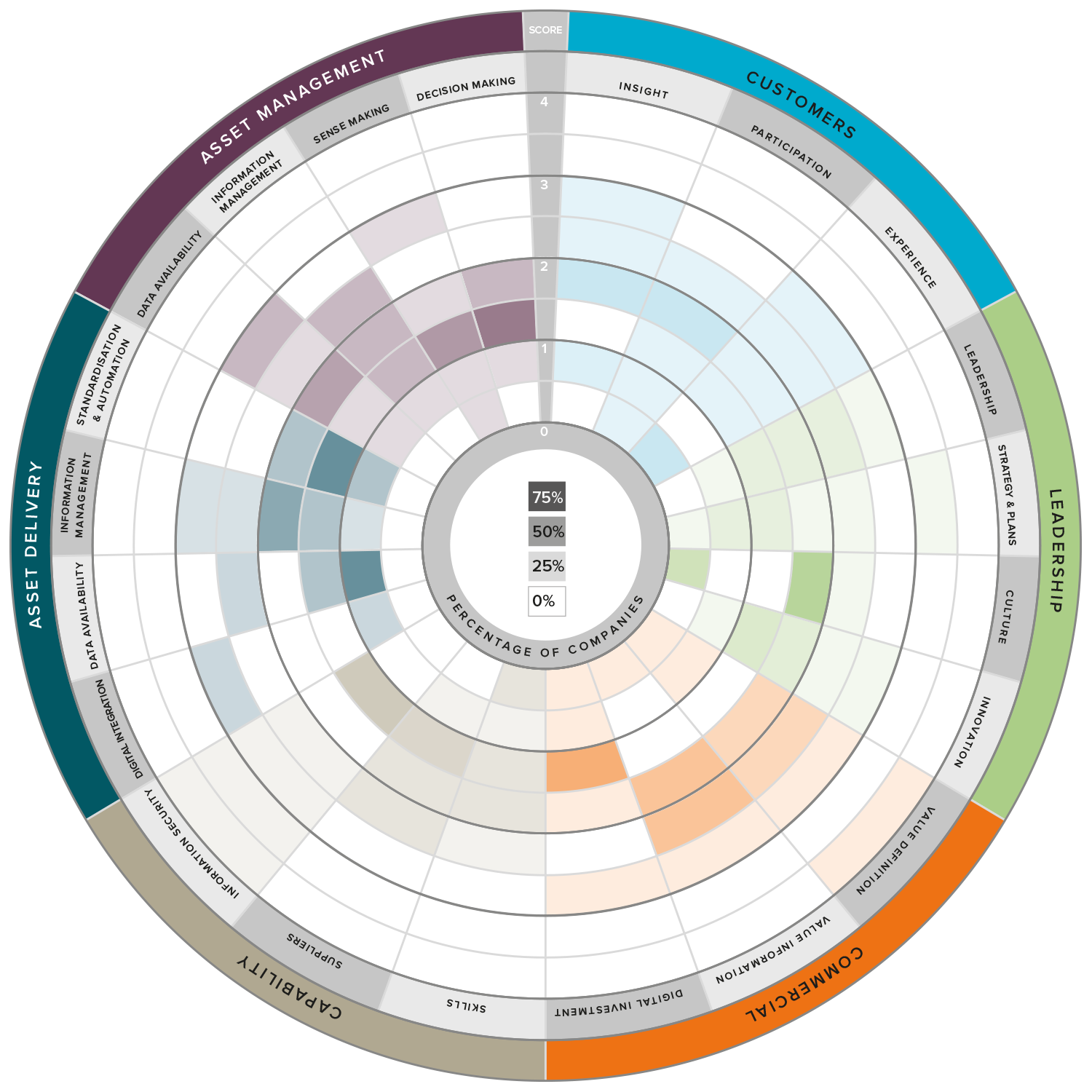 The infrastructure industry is ripe for digital transformation, but are the key players ready for change?
Digital transformation offers vast opportunities to improve infrastructure performance, not just in the delivery of new assets, but also in their operation and integration with existing infrastructure.
The benefits could be worth £22 billion per year by 2030.
This report provides a snapshot of the UK infrastructure industry's digital maturity - it's readiness for digital transformation. Despite the wide differences between owner organisations, a series of common challenges emerged:
Understand who your customers are - and what they want:


Create a line of sight between the enterprise and citizens as the ultimate customers, to understand how they value infrastructure and what outcomes really matter.

Embrace digital transformation as key to business success:


With leadership from executive level, implement a coherent digital transformation strategy that underpins the overall corporate strategy. 

Break down data silos and better understand whole-life performance:


Start treating information as an asset; focus on making better use of information, creating the platform to unlock more whole-life value from existing assets. 

Keep aspirations high - but get the basics right first:


Focus on embedding basic good practice as business-as-usual across the whole enterprise. Get data quality right as a key foundation.

Make information security everyone's responsibility, not just those in corporate IT:


Develop a culture of personal responsibility for information security similar to that for health and safety – both internally and for partners. 

Click here to view the Full Report.